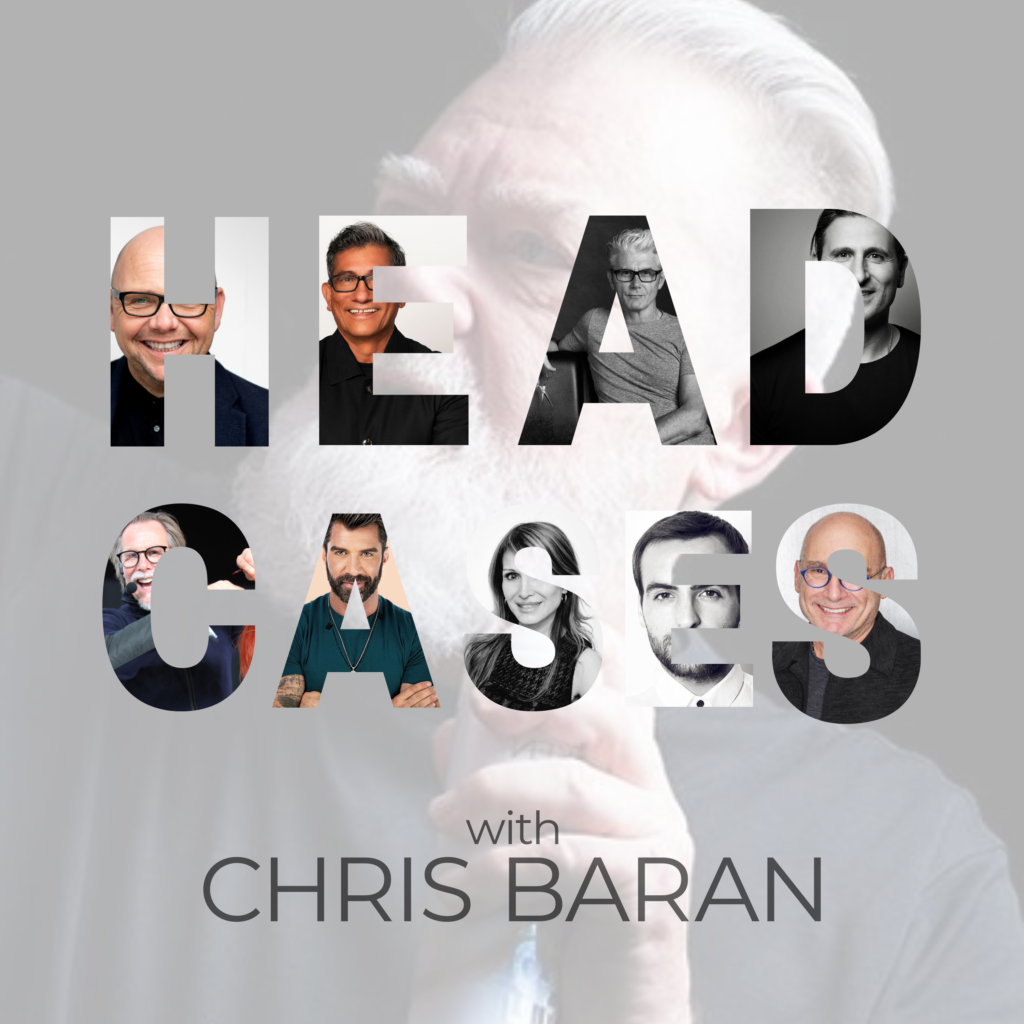 Our hair heroes seem so successful, so famous, so much larger than life — so far from their
earliest days as a cosmetology school graduate. Imagine you could sit down with your
heroes and ask them "How'd you learn that?" Chris Baran asks his legendary guests how
they got started, who were their mentors, what were the big turning points, what key
pieces of knowledge made the difference for them in their rise to superstardom. After all, if
they can do it, maybe the rest of us can too. Will you be the next hair hero? Only one way to
find out.
The brand-new industry podcast, Chris Baran's Headcases, is live with three episodes ready
to listen to and watch on Spotify, iTunes, YouTube and right here on the website. My first 3
guests are Eric Fisher, Anna Pacitto and Ammon Carver.
Eric Fisher:
Over the last 30 years, Eric Fisher has opened four salons that are repeatedly voted Best
Hair Salon in Wichita and named among the Top 200 Salons in America.

"Do you want to be good at what you do? Do you want to be great? Or do you want to be
one of the best?". Here on Headcases, we think Eric Fisher is one of the best! Hairdressing
has taken Eric all over the world working with some of the biggest names in the industry, in
this episode learn about his start in hair and his breakdown of becoming successful.
Anna Pacitto:
Even if literally dragged into her career by her father, barber and businessman himself, Anna
has soared to the highest levels of international recognition in our industry.

Today's hair hero is Anna Pacitto. Her brain for business and artistic eye combine to create a
multi award winning master stylist. Join Chris and Anna as they discuss her start in the
industry, imposter syndrome, winning NAHA and so much more!
Ammon Carver:
From horse training to hair styling today's headcase, Ammon Carver, discusses learning to
love yourself and your craft plus his transition from teaching behind the chair to mentoring
on stage to becoming a father.

Ammon Carver has gained recognition in the hair and beauty industry for his refined
aesthetic, continued passion and portfolio of flawless looks. With 7 nominations and awards
for Master Hairstylist of the Year & Salon Team of the Year in 2015 by the prestigious North
American Hairstyling Awards, Ammon is one of the most highly regarded hair stylists in the
business.
Tune in every Thursday to hear your hair heroes as we discuss their start in life, the beauty
industry, lessons they've learned and that guess what – they're human too!